Together We Cope is our November Mission of the Month. You can either donate on our website under the giving page selecting mission of the month, or you can donate food and personal care items. We will have bins set up at church to collect the donations. Items they are always looking for can be found on the flyers pictured below.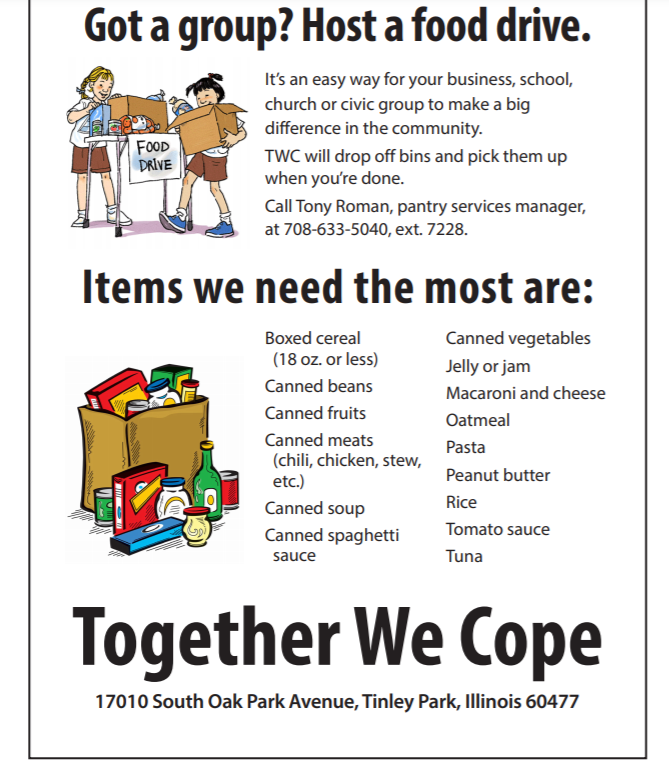 Together We Cope is a prevention agency based in Tinley Park, Illinois, Together We Cope provides resources to families in temporary crisis, enabling them to stay in their homes.

Since 1982, Together We Cope has been bridging the gap for south suburban residents in 27 communities by supplying food, shelter, clothing and referrals, empowering them to return to self-sufficiency.  
With over 200 volunteers, generous community donations of food, clothing and household goods, and groceries purchased from the Greater Chicago Food Depository, TWC serves more than 1,500 families each month.
Our efforts are aimed at preventing homelessness for hard-working families and individuals who experience an unexpected temporary loss of income. We are able to provide basic necessities like food, shampoo, diapers and clothing and  help with prescriptions, past due rent, mortgage, utility payments, school supplies and Christmas presents for children. By providing help in these areas, it allows families to use their limited money  on housing, utilities, and medical needs while they work hard to get back on their feet again.
They serve 27 south suburban communities

Our south suburban service area encompasses all of Orland, Palos, and Bremen townships and includes the suburban part of Worth Township. Residents of this service area are eligible for help from Together We Cope. If you live in one of these towns, we have helped your neighbor: Alsip • Blue Island • Bridgeview • Chicago Ridge • Country Club Hills • Crestwood • Evergreen Park • Garden Homes • Harvey • Hazel Crest • Hickory Hills • Hometown • Homewood • Markham • Merrionette Park • Midlothian • Oak Forest • Oak Lawn • Orland Hills • Orland Park • Palos Heights • Palos Hills • Palos Park • Posen • Robbins • Tinley Park and Worth.