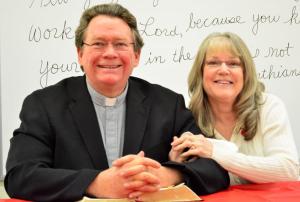 Pastor Steve Lee and wife Elaine
Pastor Steve Lee is a Lutheran Church—Missouri Synod (LCMS) pastor currently serving as vacancy pastor at Living Word Lutheran Church. Prior to entering the ministry, Pastor Lee served as a law enforcement officer, first locally in California as a patrol officer, juvenile officer, corrections officer, SWAT team leader, major crimes investigator and supervisor, and then as a federal NCIS special agent.
Over the years, Pastor Lee has served in a variety of ministry roles, including parish pastor, church planter, youth director, missionary and law enforcement chaplain. In 1996, he founded Peace Officer Ministries, Inc. (POM), a Christian chaplaincy ministry to law enforcement. POM has produced thousands of law enforcement edition Bibles and books, and conducted chaplaincy training courses at Concordia Seminary in St. Louis, MO. In his chaplaincy role, Pastor Lee has also responded to many crises, including Columbine High School, 9/11, Hurricane Katrina, and many other natural and man-made disasters.
Pastor Lee has been married for 42 years to his wonderful wife Elaine. In the past she has assisted him as POM's Ministry Support Coordinator and also as church secretary. Among other endeavors, she also worked for Dr. James Dobson's Focus on the Family and Dr. Wyn Arn's Institute for American Church Growth. They have four children and seven grandchildren.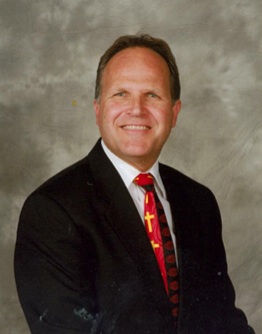 Pastor Steven Lange
Pastor Steven Lange has recently retired after serving as pastor for over 30 years, beginning in Nebraska and then Kansas, before coming to Orland Park as a church planter in the fall of 1989. He was the 1st pastor Living Word ever had, founding the congregation with five other families in 1990. He is married to Karen. They have four children and ten grandchildren.
Anita Meier
Anita has been attending Living Word from the very beginning, and has been its primary musician throughout the years. She received a Bachelor's Degree in Music Education from the American Conservatory of Music in Chicago. Prior to Living Word, Anita served in other churches since 1973. She currently leads musicals twice a year at the church and gives direction to singers for worship each week. Anita is married to Gary and they have two grown sons and six grandchildren. "My intent for Living Word is that we grow in faith, hope, love, grace, charity, and forgiveness. If I can be an instrument through music and singing, I will be very thankful and praise my God and Savior for such an opportunity."